Strategic Traps - Tier 1 - Tier 2 - Tier 3 - Tier 4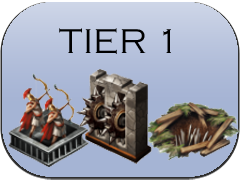 ---
---
Tier 1 strategic traps are the fastest and easiest strategic traps to make, and are the amongst the first traps the player begins to build. To begin researching strategic traps, Iron Bricks must first be researched, which requires "Trap Building" to be researched in the "Wall Traps" Research tree. To unlock the additional traps, the player requires a Lv.5 Academy, "Iron Bricks" Research and the Tier 1 Wall Trap counterpart (Spikes, Archer Towers and Boiling Tar).
NOTE: The trap type (eg. Ranged) refers to what the trap is strong against.
Trap Poll
What are your preferred defences?
Ad blocker interference detected!
Wikia is a free-to-use site that makes money from advertising. We have a modified experience for viewers using ad blockers

Wikia is not accessible if you've made further modifications. Remove the custom ad blocker rule(s) and the page will load as expected.