Strategic Troops - Tier 1 - Tier 2 - Tier 3 - Tier 4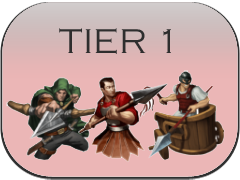 ---
---
Strategic Troops are very similar to standard troops, however they differentiate in the way a user initiates them and uses them in the game. Strategit troops have slightly different advantages and disadvantages to their regular counterparts. Unlike standard troops, strategic troops mainly focus on one specific enemy type, and do much more damage to that one particular troop. For example, Spearmen are Very strong against Cavalry enemies, but will take much more damage from ranged, other infantry and defences (traps). There is also currently no strategic version of a siege unit.
All tier 1 strategic troops are unlocked as a reward from completing the turorial with Athena. Once unlocked it's a good idea to start training some troops, and using the academy to begin researching strategic combat to unlock Tier 2 Strategic Troops.
Troop Poll
What are your favourite kinds of troops?
Ad blocker interference detected!
Wikia is a free-to-use site that makes money from advertising. We have a modified experience for viewers using ad blockers

Wikia is not accessible if you've made further modifications. Remove the custom ad blocker rule(s) and the page will load as expected.