Wild Troops - Tier 1 - Tier 2 - Tier 3 - Tier 4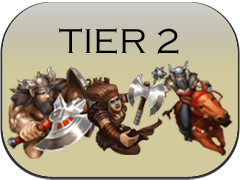 ---
---
Tier 2 Wild Troops have identical stats to Tier 2 Strategic Troops. To unlock this tier of troops, the player must first complete researching the three Tier 1 Wild Troops. Once complete, the player will then need to research Wild Infantry Defence Lv.4 to research Axemen, Wild Ranged Defence Lv.4 to research Axe Throwers, and  Wild Cavalry Defence Lv.4 to research Marauders. Upon completion, the player will also unlock the ability to research Troop Training Capacity IV for an increased Troop Queue.
Troop Poll
What are your favourite kinds of troops?
Ad blocker interference detected!
Wikia is a free-to-use site that makes money from advertising. We have a modified experience for viewers using ad blockers

Wikia is not accessible if you've made further modifications. Remove the custom ad blocker rule(s) and the page will load as expected.