Strategic Troops - Tier 1 - Tier 2 - Tier 3 - Tier 4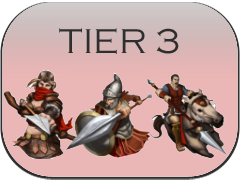 ---
---
Tier 3 strategic troops are significantly stronger than their Tier 1 troops, and slightly stronger than their Tier 2 troops. They cost 0.5x more resourses than Tier 2 troops and may be the best troops for some players for quite some time. Around this point in the game, it begins to get harder to upgrade multiple expensive buildings, and unlock research for the hero, traps, troops, marching and economics among others.
Unlocking Tier 3 Troops requires an academy of level 15, and the strategic troop health skill to Lv. 5. Further research in the defence, attack and hellth skills will continue to increase the stats of the Tier 3 Strategic Troops.
Troop Poll
What are your favourite kinds of troops?
Ad blocker interference detected!
Wikia is a free-to-use site that makes money from advertising. We have a modified experience for viewers using ad blockers

Wikia is not accessible if you've made further modifications. Remove the custom ad blocker rule(s) and the page will load as expected.