Wall Traps - Tier 1 - Tier 2 - Tier 3 - Tier 4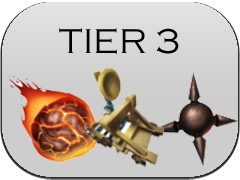 ---
---
Tier 3 traps have a big increase in efficiency from their Tier 2 predecessors. Requiring an Academy Lv.15, Snares Research to unlock Caltrops , Turret Research to unlock Catapult's and Steam Cannon Research to unlock Burning Rocks, Tier 3 Traps have good Attack, Defence and Health stats. Furthermore, Tier 3 Traps are the only Wall Traps that are effective against damaging two categories of enemy troops.
NOTE: The trap type (eg. Ranged) refers to what the trap is strong against.
Trap Poll
What are your preferred defences?
Ad blocker interference detected!
Wikia is a free-to-use site that makes money from advertising. We have a modified experience for viewers using ad blockers

Wikia is not accessible if you've made further modifications. Remove the custom ad blocker rule(s) and the page will load as expected.