Strategic Troops - Tier 1 - Tier 2 - Tier 3 - Tier 4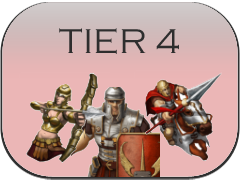 ---
---
Tier 4 troops are as deadly as they come. With the added damage Strategic Troops have, they are able to deal the most damage to a single type of target. Use these troops wiesly at war, as they could both make or break the fight. Scouting enemies can help prepare for the fight ahead, and if the enemy has lots on a single type of unit, these troops alongside some siege units might get that silver you deserve.
To unlock Tier 4 Strategic Troops, an academy level of 21 is required, as well as all of the Combat Research, or at least the same type of troop unlocked, alongside Lv. 10 in Strategic Troop Defence.
Troop Poll
What are your favourite kinds of troops?
Ad blocker interference detected!
Wikia is a free-to-use site that makes money from advertising. We have a modified experience for viewers using ad blockers

Wikia is not accessible if you've made further modifications. Remove the custom ad blocker rule(s) and the page will load as expected.