Troops - Tier 1 - Tier 2 - Tier 3 - Tier 4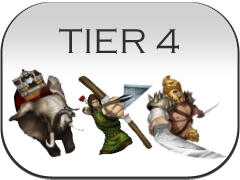 ---
---
Tier 4 troops are as deadly as they come. Plow a pathway through the battlefield with raging War Elephants, blast down fortresses with the Onager's, and let the Immortals and Marksmen do their part. Feeding such beasts requires a lot of food and preparation, and training them takes commitment, and will definitely take a chunk out the recourse pool.
To unlock Tier 4 Troops, an academy level of 21 is required, as well as the relative defence skill is required to be maxed (level 10) to unlock the related troop. In order to unlock Onagers, Marksmen and Siege Defence 10 must first be obtained.
Troop Poll
What are your favourite kinds of troops?
Ad blocker interference detected!
Wikia is a free-to-use site that makes money from advertising. We have a modified experience for viewers using ad blockers

Wikia is not accessible if you've made further modifications. Remove the custom ad blocker rule(s) and the page will load as expected.